Course content will focus on the following key areas:
● An overview of foundational topics, including an overview of access control definitions and concepts
● A review of NEC wiring methods applicable for access control processes
● A deep dive into common devices and overall instruction on installation for industry professionals.
● An additional module has been included for students covering preparedness for workplace active shooter situations.
Bonus Module: Preparedness for Workplace Active Shooter Situations
(This module is not graded, but is for informational purposes only)
Preparedness for Workplace Active Shooter Situations. Creating a safe environment for your place of business to be able to handle emergency or disaster scenarios should be on every business owners to-do list. In this 1 hour course, focused specifically on preparing your business for active shooter situations, you will learn the following key concepts:
● Understanding what constitutes an active shooter situation as defined by the Department of Homeland Security (DHS).
● Determining what responsibilities key staff should have (Facility Managers/Security Personnel/Regular Employees).
● Designing practical safety guidelines for all employees to follow.
● How employees should act during an active shooter situation in the workplace
---
Online Certification Course Layout:
All approved courses, curriculum, & quizzing will be offered through a self-paced web based training platform.  The Certification Test (i.e. final exam) will be a one-hour proctored final exam with a nationally recognized testing company.
Each group of topics will be divided into titled and clearly identified modules ranging from 1 to 4 hours for a total of 15 hours.

  NOTE: Course modules will be delivered through SCORM standard LMS (Learning Management System) compliant software.

All online course modules are self-paced and can be logged off and on at anytime to where they left off.

After each module section is completed a mandatory quiz of ten questions will be given, on which learners must score of 70% or better in order to pass and receive course credit.
Final Exam:
Final Exams are taken ONLINE with national testing company, Proctor Exams.
Please verify that you can meet system requirements to complete the final exam.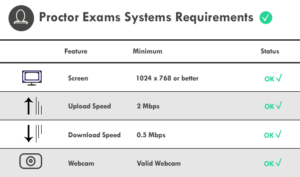 After all module sections have been completed, use the automatic single sign-on button to access your Exam via Proctor Exams. This access will appear only after all applicable coursework has been completed.

A picture ID are needed in order to take the proctored two hour final exam.

Using your Elite CEU login you will complete the proctored 50 question final exam.

Once the final exam is passed with a 70% or better, and the Exam Verification has been completed,  Elite CEU will be notified and a Certificate of Completion will be processed and sent directly to the student within 2 business days of Exam Verification.

NOTE: If a student fails to pass the exam, they can immediately re-take the online proctored final exam and will pay a $45 retesting fee to Proctor Exams. To purchase an exam at a later date, use your Elite CEU login to to access your single sign-on for purchasing.
Certification Hours: 15
Approved for Certification Credit in:  Alabama, Texas